Dixie Soaps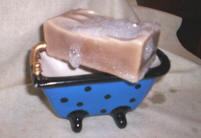 Dixie-Does Alpines is home to
Dixie Soaps
, we produce luxurious goat milk soaps, lotions, and lip balms. We have a huge selection of natural and scented soaps! We sell online and at stores and farmers markets in the Dayton, TN and Chattanooga, TN area. Follow us on Facebook for new products and sales.
Dixie-Does Alpines is a small herd of dairy goats established in 1994 by a team of brothers and sisters. After a marriage, the goats now reside in Dayton, TN. We have high standards, focusing on breeding healthy, structurally correct, elegant dairy does with excellent udders that excel in both the show ring and the milk parlor. Our herd presently consists of American Alpines. Our feature product is Hand Made Goat Milk Soap.
We sell kids every spring and occasionally have a limited number of adult milkers available. We also sell a number of other farm products. See our Goats Page or our Products Page for details.
Dixie-Does History, Awards, and Achievements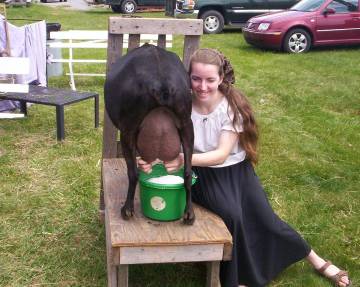 We had the opportunity to purchase two bred doelings from Kathy Evans and Susan Calahan of Waiilatpu in November 2000. These lovely does, Maire and Gabriela, are the foundation of our herd. Both does are now permanent champions, both have appraised excellent twice, both have Best In Show wins, and both have lactations over 3000 lbs.
We greatly admire their beauty, productivity, and their ability to pass these traits to their offspring.
Since then we have added several does and bucks from Waiilatpu. We are so grateful to Kathy and Susan for making these exceptional animals available to us.
In 2005, we added two bucks from the Nestor Acres herd and a lovely yearling doe from Munchin Hill.
We would like to thank Kathy and Susan, Jeff, Pat, and Christen, and Cheryl for allowing us to purchase some of their lovely Alpines.
Also in 2005, we organized and hosted an open ADGA show, the First (of 4) Annual Fall Fuzzy Show. We would like to thank each of you that attended and made our show a success.
2007: After approximately 10 years of making goat milk soap for family and friends, we began selling our soap more widely, with many positive reviews. We now have a wide range of soap scents available, and our soap products have become the farm's feature product.
In 2007, we finished Eva and Priority and had many memorable moments in the show ring. We were thrilled to be very competitive in group classes this year, even winning Best Herd in Show several times!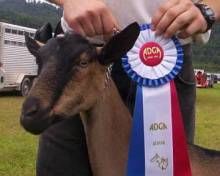 We also hosted a second ring at the NRV Fair Show on July 31, 2007.
Dixie-Does won Premier Alpine Exhibitor at both the 2007 VA State Fair and 2008 WV State Fair
2008 began on a very sad note, with the passing of our beautiful and beloved GCH MonaLisa. She had quite the fan club and was popular everywhere she went. However, watching her descendants mature into outstanding animals helped fill the hole she left behind. We were delighted to welcome three maternal sisters into the herd, born 12-21-08!
With a small and young show string we managed to finish championships on a homebred mother-daughter duo, Abbey Road and Antoinette!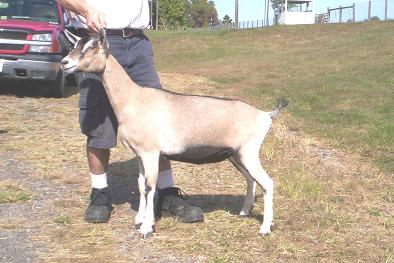 (Jacqsonné and Purcell) was Jr GCH 2008 Fall Fuzzy Goat Show. Congrats to her owner Anita Martin of Shantara Alpines!
August 1, 2009, A new start in Dayton TN:
In 2009, Becky married Bill Ensinger and moved to Dayton, Tennessee, along with the goats. Bill has done a lot of work improving the web site and turning 6 acres and a barn into a productive goat farm. With small children, we haven't been able to go to as many goat shows as in the past. However the goats continue to win prizes with yearling Memory going GCH and BOB, and 2010 kid Jabine earning RGCH and GCH.
BLOG:
Today we updated our new web site again. It refines changes made in June. The June changes made a lot of changes under the hood. It should run faster and it will be easier for us to update. It is also designed to be easier to use on smaller screens. If you experience problems, please contact us. Thanks!
February 2016 Lego Goat
We've combined two of Bill and Becky's favorite hobbies: Legos and Goats. Check out the Lego Goat! We're working on having it available for sale too. Check it out here.
January 8, 2015 Psalm 127:3-5: "See, children are an heritage of the LORD: and the fruit of the womb is his reward. 4 As arrows are in the hand of a mighty man; so are children of the youth. 5 Happy is the man that has his quiver full of them: they shall not be ashamed, but they shall speak with the enemies in the gate."
On January 8, we welcomed our son Gideon to our human flock! He is doing well.
Fentress County Fair Goat show results:
August 16, 2014: We were honored to win senior GCH, RGCH, and Best of Breed!
Celebrating 20 years! April 20, 2014 was Dixie Does Alpines 20th anniversary of goatkeeping! Dixie Does Alpines has spanned several moves and a marriage, and has a bright future as Bil and Becky are now both working full time to maintain the farm and soap business.
Farmer's Markets in Chattanooga and Ooltewah We sell our soaps and other products regularly at 2 farmer's markets in our area in Chattanooga on Saturdays and Ooltewah on Thursdays. For times and directions, click here.
Pictures: Check out our farm virtually. We have lots of pictures of our farm. Check it out here.
Our farm has been featured in several articles by David Tulis, editor of The Tulis Report, a web site dedicated to reporting on issues in the Chattanooga area. One about our 2015 Open House and another about our farm. Check it out here: Goats help family pour sweet milk into farm, soaps sold online. Also, read this article about how to justify the price of locally produced items, specifically related to Goat Milk: The price is not as bad as you might think!
We attended the Georgia State Fair in October 2012. Dixie Does Fireman Clementine was GCH jr doe and Dixie Does Fireman Helena was RGCH sr doe!
Welcome Elizabeth! Our second child arrived in early October 2011. Mom and baby are doing well.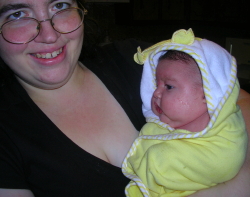 Eggs: Our first egg, June 14. 2011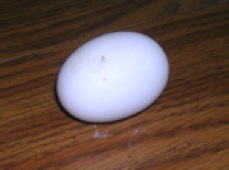 June 30, 2010: Our first human baby, Laura, arrived 6-30-10!