I make all kinds of quilts to sell.
I can follow a pattern or design a quilt just for you. Baby, wedding, snuggly lap quilts, quilted tote bags, table runners, bed quilts, quilted placemat and tablecloth sets... etc.
I can do many different fabrics, patterns, block arrangements, and any colors.
For example, if you love rabbits, your quilt could feature an appliquéd rabbit designed to match your favorite rabbit. Or, it could be stitched into a rabbit patchwork design, or a traditional pattern using fabrics that feature rabbits. Each quilt can be personalized in fabric choices, colors, and design to suit its recipient.
I also make many farm quilts and display banners for livestock breeders. These can incorporate a farm name or logo, the animals you raise, and even show ribbons. They make a stunning display at fairs and shows, a great way to advertise your herd!
All items are handmade and my own unique designs.
Prices vary quite a bit depending on the quilt size, pattern, and customizing. In general:
wall hanging - type quilts are about $75-$100+
baby/lap quilts are about $100+
Full size quilts start at $300
Money orders or Paypal accepted.
All quilt prices now include shipping for ease of ordering.
Frequently asked questions about quilts:
1. Do you have any quilts for sale now?

The majority of quilts I make are custom orders and pre-sold. I do occasionally have quilted items for sale, and will list these items on this page when they are available.
2. How do I order a quilt?

You may call or email for more information. I will need to know the basic details about what you want. You may have a pattern chosen, or ask me to select/design one for you. Once I have the basic information such as desired size and pattern I can quote you a price.
3. How long will it take to make my quilt?

That depends. Small projects can usually be completed in a just a couple weeks. Large projects take longer. I will be able to give you a time estimate when you inquire, time varies by complexity of the quilt, and how many other projects I am working on at the time. I can do rush orders for last minute gifts!
4. Do you hand quilt?

Yes, I hand quilt, and quilts can be finished in several different ways. Hand quilting, machine quilting, and tying all are options. I can usually only hand quilt smaller projects due to time constraints but I am happy to discuss different options with you.
5. Do you bind quilts/ repair quilts?

Yes...contact me for pricing and information.
If you need any additional information, please feel free to contact us. Thank you for your interest in my quilts! Check back often to see new projects and what is available.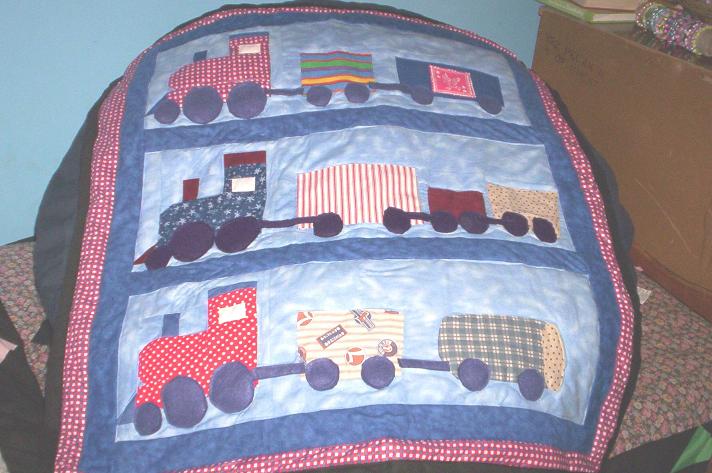 A custom designed train quilt. Perfect for the baby boy or railfan in your life.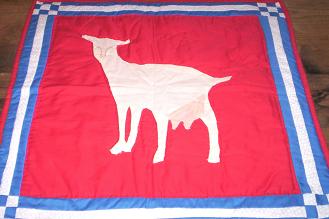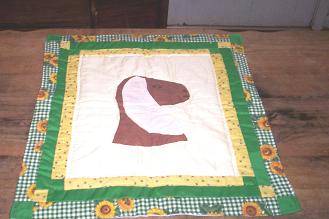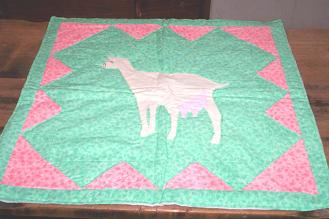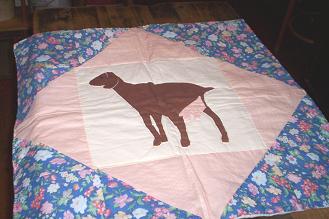 Some Goat Quilts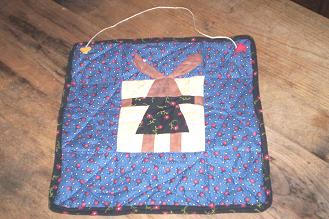 Bunny Wall hanging. About 12" square. 3- Dimensional ears, hand-quilted, jute and button hanger.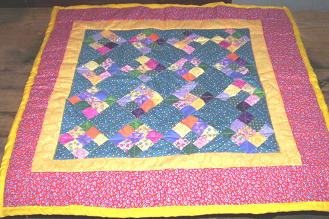 Bright scrap quilt. 36" square.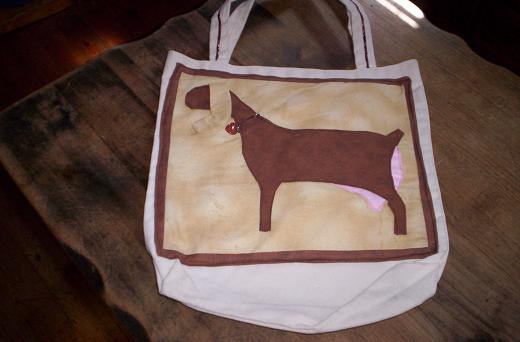 Canvas tote with appliquéd Nubian doe. Doe has beautiful heart shaped pendant attached to her ribbon collar.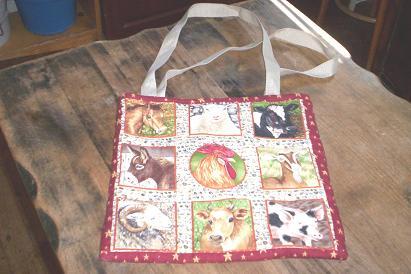 Farm animal tote: Quilted lined tote bag with French seams and hand quilting. Animals include foal, sheep, Holstein cow, donkey, rooster, Toggenburg doe, horned sheep, Jersey cow, and spotted pig.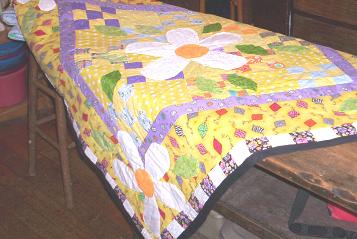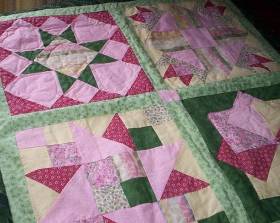 Details of Sampler Quilt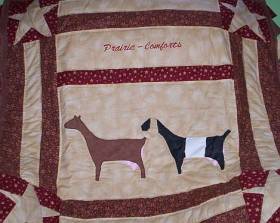 A Custom-Designed Farm Banner
I love it! It goes perfectly in my craft room.

Becky is such a sweet and talented person to do this for me!

Thank you again, Becky. Myra Olson
Prairie Comforts Farm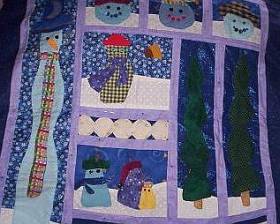 A Fun Appliqué Snowman Quilt!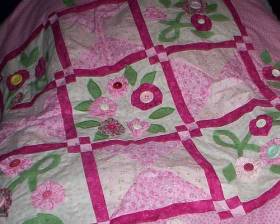 Floral Yo-Yo Appliqué Quilt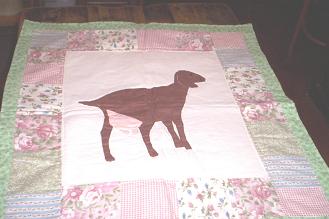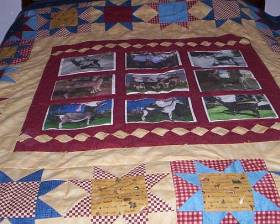 Queen size quilt featuring goat photos transferred to fabric with Ohio Star borders. Designed for Randy Hoach.
Hello All,

I just want to take a moment to let you know that I received one of Becky's quilts as a gift very recently. This quilt was STUNNING! It was not only beautiful and the images of the goats so clear, but was quality. With a family Antique business you get to see some real quality work when it comes to quilting and the craftsmanship on this quilt was very good. This quilt encompassed my "goat life" showing photos of me as a child showing my first alpines-leading up to the two National Champion does that we were so fortunate to have and then leading in to today's Alpine stars of the show ring...it is really something to see and very special. I highly recommend the work and artistic impression that Becky puts in to these quilts!

Randy Hoach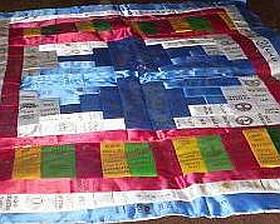 A Log Cabin Quilt
made entirely from show ribbons!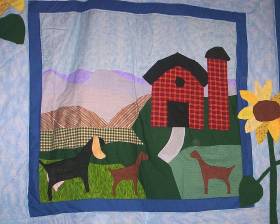 Barnyard Picture Quilt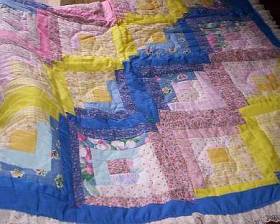 Pastel Log Cabin Baby Quilt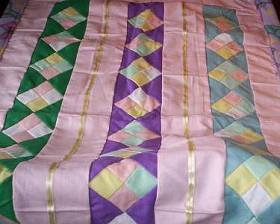 Ribbon Stripes Baby Quilt
Hey everyone! I just got my custom ordered baby quilt from Becky.....It is gorgeous and will be an heirloom for my beautiful granddaughter I am sure! It is well worth it to get a hand made quilt from Becky! She does a fantastic job! Can't wait to give it to Claire! Kathy Waiilatpu
Alpines and Toggenburgs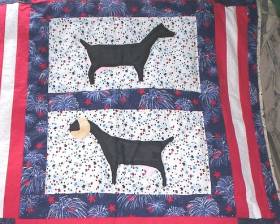 Patriotic Goats Custom Design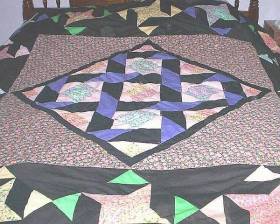 Basket Weave medallion center with Friendship Square borders